CaterCow is a website where you can find delicious catering options from vendors that have gone through our multi-step verification process to ensure quality and reliability. Ordering is simple, and all packages are priced per person to take the guesswork out of figuring out how much to order for your event! 
1. Head on over to 
catercow.com
 and enter your event delivery address, event date, delivery time and your headcount (or your best guess as you can always change it later) and then press the red "Search" button to see the packages available to deliver to your address. If you know you'd like a specific cuisine, you can use the search filters to narrow down your results. ie. Mexican, Sandwiches & Wraps, or even filter by "new" packages to the site or packages that come individually wrapped.
2. Once you've found a
package
you like, clicking the specific package link located below it's main picture will bring you to the package details page where you can read more about the package, what's included, as well as information that will help you make an informed decision!
3. When you've found the package you want, you can click the yellow "Customize & Order" button while on the package details page. If you haven't already signed up for an account, you'll be prompted to do so here.
4. You are then brought to the checkout page. Near the top, if you need to add on drinks, dessert, sides, or other items that were not included with the order, you can do so by clicking the blue "Select AddOns" button.
5. Next up, you'll provide the details of your delivery address to make it easy and efficient for the delivery driver to locate your office/event! If applicable, provide your company name, suite/floor/building number and if possible, always include a contact name and phone number in case of any delivery issues. (p.s. you can save your addresses for easy use on future orders by clicking "save address")
6. Just below, enter your credit card information into our secure payment system. Our payments processor is a PCI Level 1 Service Provider, the most stringent level of certification available in the payments industry, so rest assured, your information is secure. 
7. If the package you chose allows you to choose different options, you'll do so in the "Choices" section of the checkout page. This is just a text box, so you'll have the flexibility to copy and paste your desired combination of choices from the "Show Choices" link. (Pro Tip: It's very easy to copy and paste the entire choices menu from here and then just delete the options you don't want!)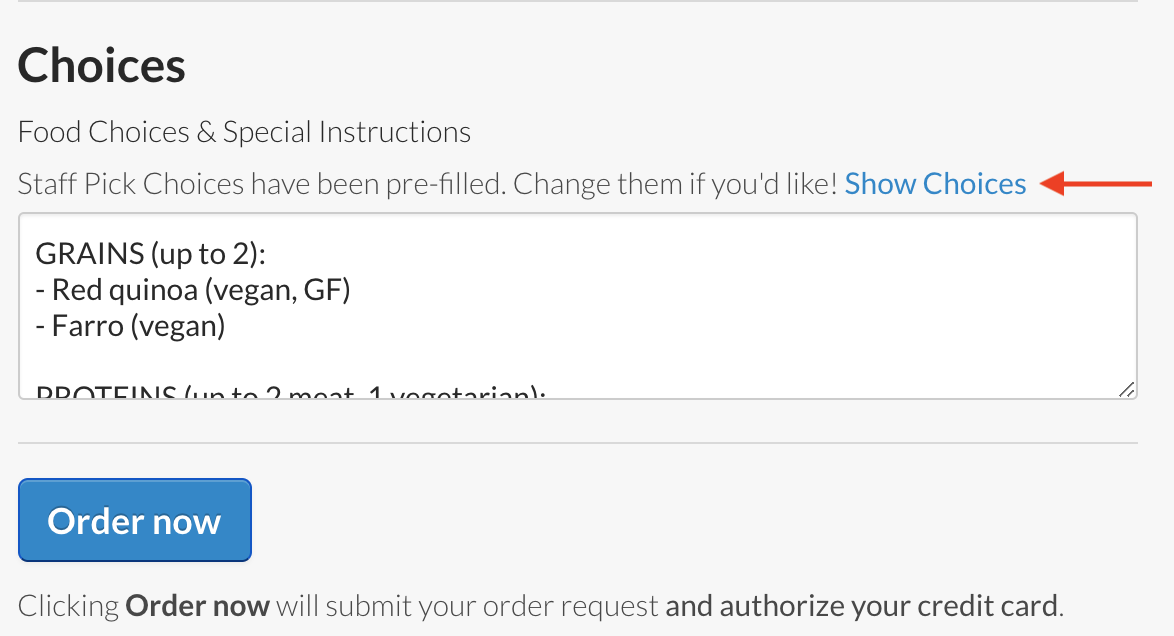 8. Make sure to review your order details to ensure accuracy, and if you are ready, click the blue "order now" button and voila! You've just submitted a catering order. Woohoo!
9. We then send the order to the caterer for confirmation. As soon as they confirm the order, or let us know they can't take the order (this doesn't happen often), we send you an email letting you know, so you never have to guess about your order status.